Natural Mica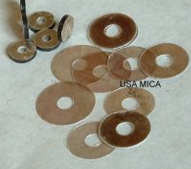 Description: Mica paper tube is a hard tube with good mechanical strength  and is used for Thermal & electrical insulation.

 Type: Muscovite mica, silicon tube (600°C)
            Phlogophite mica silicon tube(750°C)
            Calcined muscovite mica silicon tube(950°C)
            Muscovite mica epoxy tube- class F (155°C)

Application: Furnace, Electric are furnace, Metallurgy equipment, Resistors, Electric motor, Appliances and wherever insulation of high temperature and high dielectric strength is required.
For in-stock item visit our online store

Please click on for custom orders.