Micanite (Flexible Micanite Sheets)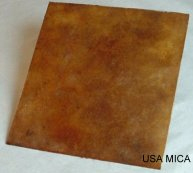 Micaniteare manufactured from natural Muscovite mica splittings, bonded together by a variety of bonding agents such as Shellac, epoxy , alkyd or silicone, in order to obtain particular characteristics for specific uses. Variations can be made in the method of manufacture, the types of Mica, and the type of quantity of bonding material used to form thick or thin, stiff or flexible products in the form of sheets, webs or ribbons and also moulded article.
Flexible Mica Sheets remain flexible at low room temperature, rigid at high temperature, develops increased tenacity and is fully oil resistant. Our range of Flexible Mica Sheets does not react with copper. It has high moisture and heat resistance, high dielectric strength, excellent chemical resistance and electrical insulating properties.
Usage:
HT motors
Induction furnace
Suitable for F & H Class Insulation
Traction Motor Armatures & Generators
High Tension Coils Suitable for upto 11KV
The above sizes are not the complete range. We can supply any size in any quantity.
For in-stock item visit our online store

Please click on for custom orders.